Sophia's Choice
A few days ago, my almost-4-year-old daughter Sophia did something for the very first time: she asked me to take her picture.
For me this was a pretty big deal. Up until now, I've had to convince her to let me take her picture. But this was different. She dressed herself up in one of her ballet outfits, blinged it up with a tiara, necklace and pink sparkly Chuck Taylor All Stars, grabbed her doll Angel and marched up to me. She insisted that I take her picture. "Daddy," she started, "I want you to take your camera out of your bag and take a picture of Angel and me." So, I did. I grabbed my M9 and 50 Lux while Sophia sat herself down on the couch and smiled. She rarely smiles in pictures and almost never looks at the camera. Here, she did both. I think she might have even asked me what was taking so long as I got on my knees and focused.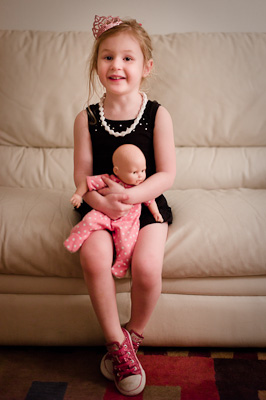 I don't think my picture of her will win me any prizes, but the significance of her request to be photographed makes it important and special for me. And, almost immediately after snapping the shot, she jumped down off the couch and raced to see her likeness on the LCD. "I love it, Daddy!!" We shared a little moment, then she was off to play a different game. And that was that.

Just thought I'd share the experience.